My lunch break usually goes a little something like this:
Therefore, while what I'm about to tell you may not sound all that exciting to you, keep the photo above in mind when I say I feel like my lunch breaks this week should have made the national news. Or at least the local news. Okay, maybe my relative sense of severity is off but what do you expect? I'm at the point where I'm making up star-crossed love stories of pretzel heir/esses. Give me a break.
My boss is out of town, and my night classes start next week (and with them starts no hope of my going to the gym after work) so I decided to test out whether I could get to the downtown YMCA branch (which I had never been to) for a pilates class at noon and back to my office within an hour.
So I Google mapped my directions out; it would take 6 minutes to get there.
Turns out "there", which Google maps told me was the Y, was a homeless shelter. I figured this out as I got out of the car with my bright green, flowery yoga mat and noticed lots of... dirty people standing around outside.
I couldn't bring myself to believe that Google Maps had failed me -- was I going to have to start using MapQuest?? -- so I decided that the logical reason for all of these homeless people was that the YMCA must be next to the YWCA, which I knew had a shelter of some kind. So my increasingly lame yoga mat and I went inside.
Yeah, it was a homeless shelter. Just a plain old, non-YMCA affiliated homeless shelter.

The lady that worked there gave me directions to the actual Y. I got lost and confused because there were movie trucks lining most of the streets I needed to turn down - Butter (whose movie set Yoni and I happened to stumble upon once), was filming somewhere downtown. When I finally got to my pilates class, 20 minutes late for a 45 minute class, I discovered where exactly the movie was filming: in the pilates workout room.
The movie crew had infested the gym, and I tiptoed around them, thinking I might see someone famous. Nope. Just a lot of racks of clothing you might see at a butter carving contest.
While looking around, I noticed what an interesting old building I was in. I was sort of teetering on whether I thought it had a lot of character or was just plain creepy. When I asked one of the guys who worked there to show me where the pilates classes had been relocated to, he took me up some really narrow stairs to a platform above the building.

And as he started to lead me up the next flight of stairs, I had to ask him if he was kidnapping me.

By the way, I decided on "just plain creepy".
On my way to the locker room after my workout, I passed a bank of directors' chairs where Kristen Schaal was sitting. You might know her from The Daily Show, Flight of the Conchords, or Modern Family, as poor Manny's date that didn't quite work out.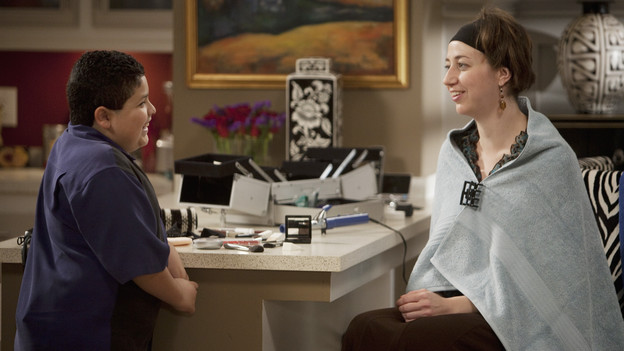 My celebrity sighting fix satiated, I felt like I was ready to end my adventures and go back to The Office. As I was changing clothes, a woman (who was dressed for a county fair, not a workout) came in and checked her lipstick. She looked incredibly familiar... like an aunt, or the wife of my refrigerator supplier. Then it clicked.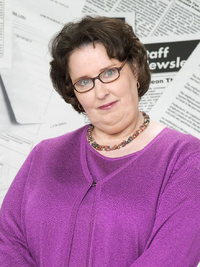 Yep, I had just been staring open mouthed, with no shirt on, at Phyllis from The Office.
How was your lunch break?